CLINICAL PILATES: About 8 in 10 people have one or more bouts of low back pain. In most cases, it is not due to a serious disease or serious back problem, and the exact cause of the pain is not clear. This is called nonspecific lower back pain. The usual advice is to keep active, and do normal activities as much as possible.  In most cases, the pain disappears within six weeks but may come back (recur) from time to time. Chronic (persistent) pain develops in some cases and further treatment may then be needed. Clinical Pilates is taught by an STOTT ISP (injury-specialist populations) teacher or an APPI physio trained teacher. This class is suitable for both post and ante – natal mums .This class is limited in numbers to ensure individual attention. Please bring a Yoga mat and bottle of water to class,booking essential.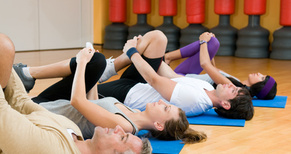 CORE PILATES/YOGA FLOW: This class is based on the latest research in fascial trains incorporating James de Silva's Garuda work which takes the class to the next level. Garuda combines  the strength work of pilates, the breathwork and asana practices of yoga and the grace of dance.
The benefits of Garuda include increased strength, flexibily, coordination and endurance with a greater sense of ease and wellbeing. Garuda  draws deeply on mental focus and teaching relaxation through movement. Like yoga garuda also massages the internal organs and aids in detoxification.
Garuda is a non stop flowing class that is challenging and mindful. You will leave feeling invigorated. It is suitable for anyone with some experience of yoga and or pilates. Watch a Garuda Class here. Please bring a Yoga mat and bottle of water to class, booking essential.
Link is here : http://pilates4sport.com/timetable